At the moment, Steam is the talk of the town. Indeed, we mentioned yesterday the monster sales that are taking place right now. In this article, we recommended you some games that we thought were clearly worth it. But today, we change the register with a feature appreciated by the players, the Steam Replay!
What is Steam Replay?
Video games are nowadays very democratized and hundreds of games are released every year. From AAA to small independent games, there is something for everyone. So, of course, these games have the right to ceremonies like the Game Awards. In fact, Elden Ring was awarded the title of Game of the Year at this event.
But with Steam Replay, that's not the side we're interested in. Indeed, maybe you found Elden Ring great and played it for hours. But maybe that's not the case. Maybe you've even played games that were not recently released. With this feature, you will discover just that.
Indeed, in this Steam Replay, you will be entitled to a lot of information about you. You will have the number of titles played during the year, the number of sessions, the number of successes or the new games you have tried. Finally, you'll get the Top 5 of your most played games. The nice thing about this Steam Replay is the form it takes. Instead of giving you a number of hours, you will be given a percentage of your total time spent on the game.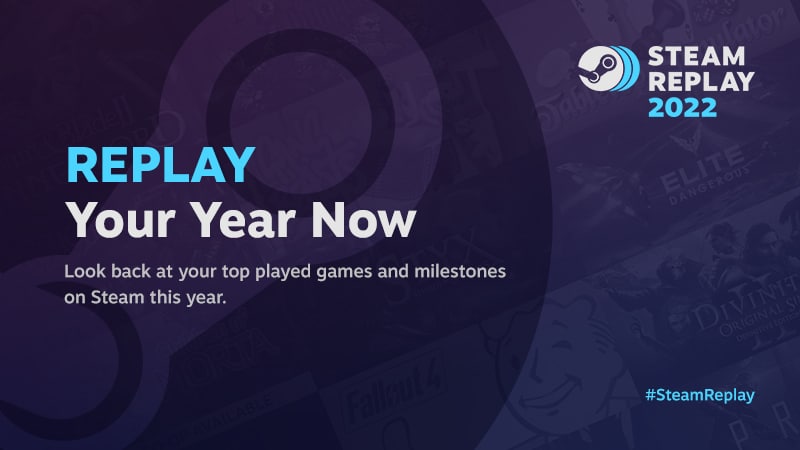 How to access my Steam Replay 2022?
To get there, nothing very complicated. Indeed, you just have to follow this link which will take you directly to the page of this Steam Replay version 2022. Once you're there, you simply log in as you normally would. Once it's good, you'll get your own version depending on your games.
Finally, you should know that if you have a Steam Deck, you will have another version. In addition to the classic, you will also have the right to your Steam Replay special Steam Deck! Concretely, it will look like the PC version except that the infographic will be split into several images. This way, it will look better on your Steam Deck. So, you know your favorite games of the year on Steam!