It's almost the holiday season, which means it's the perfect time for gift-giving. You can also enjoy yourself and want to buy a good game. So, the PlayStation Store is offering us a crazy sale for a limited period of time. It's simple, the promotions are up to 90% off! Find out more about them in this article.
Take advantage of PlayStation Store's great January promo!
As we just told you, the PlayStation Store has done everything right. Indeed, with crazy promotions up to 90% off, you can treat yourself. So don't expect all the recent games to be that much discounted either. Indeed, they do benefit from promotions, but they are generally lower.
However, there are still some great deals that are impossible to miss! To be able to take advantage of this offer, you don't have to drag your feet! Indeed, it is next January 7th at 00:59 am that this one ends. Afterwards, the games will be back to their usual price on the PlayStation Store. So, we propose you to make a tour of the offers not to be missed!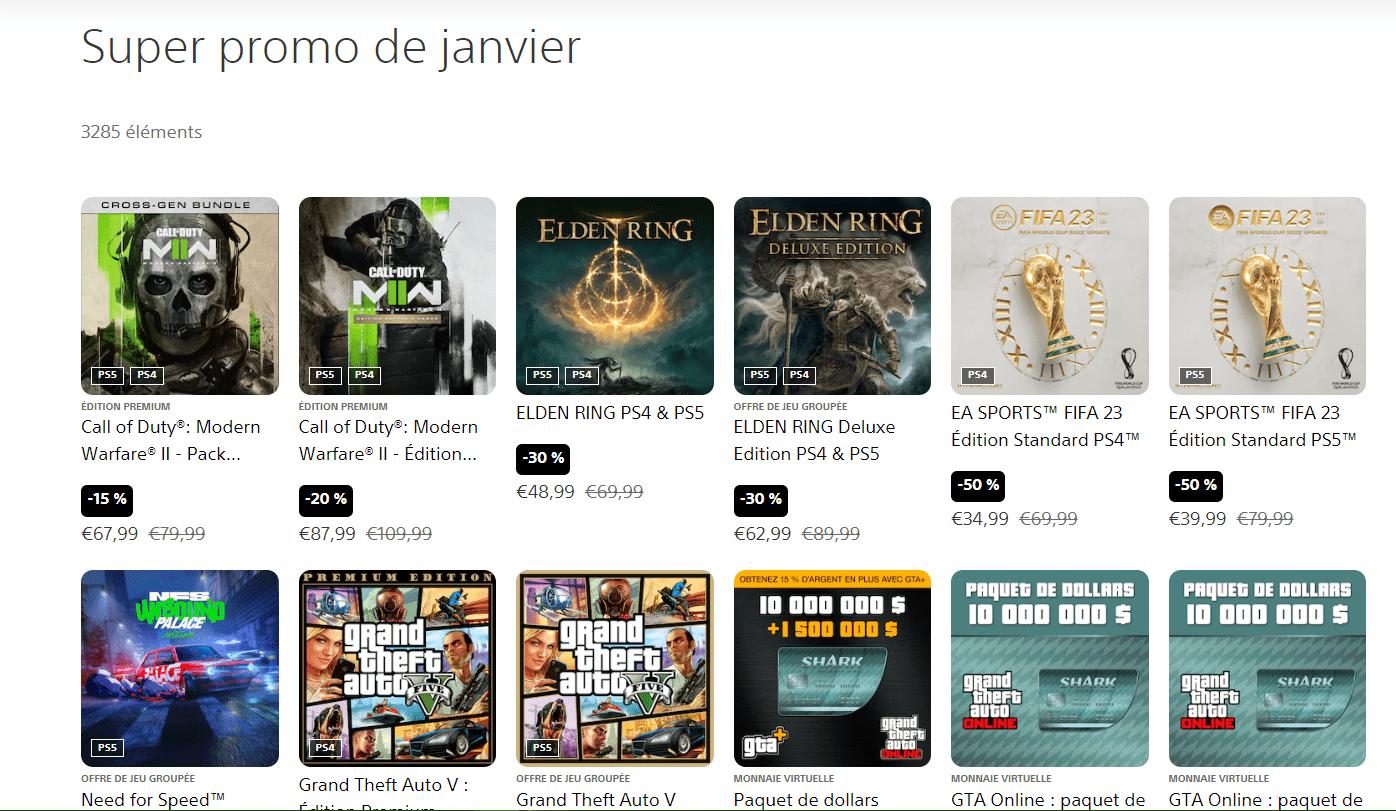 The games not to be missed!
The first game that we will advise you is of course Elden Ring! Named Game of the Year at the Game Awards ceremony, it revolutionized the world of video games. He managed to make From Software games accessible to the greatest number of people without making any concession on the difficulty! At the moment, it is 30% off on the PlayStation Store.
As the soccer world cup has just ended, you may want to extend the adventure! Well, it's quite possible with these PlayStation Store promotions. Indeed, the game is currently posted at -50%! It's a big promotion and you'll be hard pressed to find it cheaper in the coming months.
Want a big new game with a sick promotion on PlayStation Store? Then you will find your happiness with Gotham Knights. The game released a few weeks ago is already displayed at 50% off on Sony's store. Again, you won't find it cheaper in new for a while, believe us.
A little older, but just as good, The Last of us Part II is also displayed at a discounted price of -75%. It's perfect to get back into the swing of things before the upcoming release of the series. That's it for our recommendations, but these are not the only games to benefit from this promotion and we encourage you to go and have a look at the PlayStation Store yourself.