Among the most anticipated games of 2023, we can clearly say that Hogwarts Legacy has its place. Indeed, all the Harry Potter fans are waiting impatiently to get their hands on it to test it; So much so that on some platforms the game is already out of stock two months before its official release!
Hogwarts Legacy tops the sales charts!
As we just told you, Hogwarts Legacy is without a doubt one of, if not the most anticipated game of this year. It must be said that the game concept is something that every fan of the license has dreamed of. You play a wizard, choose your house and live your schooling. Best of all, you are in an open world, free to move around.
It is therefore easy to understand that the craze around the game was enormous. In addition, to maintain it, the developers are gradually revealing the new features. For example, we talked about the Sorting Hat in one of our last articles. Well, this sales technique is working. For the past few weeks, Hogwarts Legacy has been breaking all records.
It's simple, on Steam for example, the game managed to reach the first place in sales. This is unheard of for a game two months before its release. On Amazon France too, the game has reached new heights. A few weeks ago, it was simply the best-selling game on the platform for its PS5 version!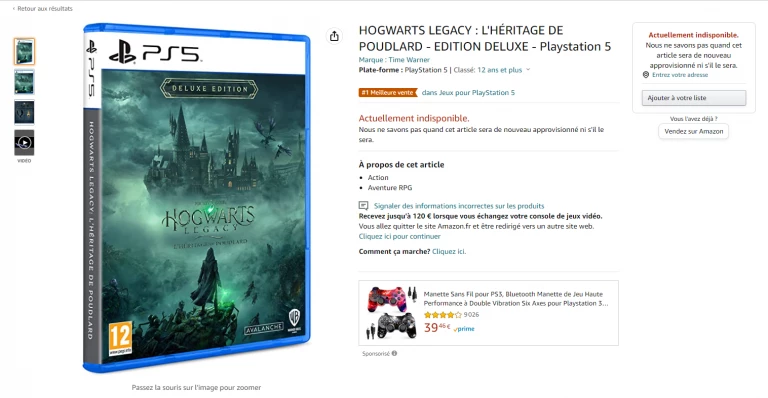 Amazon France is out of stock!
So, with such high demand, it seems Amazon is struggling to keep up. Indeed, last night, for a few hours, the game was simply out of stock on Amazon France! So let's make it clear that this was only the famous PS5 version of Hogwarts Legacy. Also, if you go to Amazon France right now, the game is available again .
However, as with all the information we've been giving you since the beginning of this article, it's crazy to think that Amazon has been out of stock. It is even more so when you know that, given the expectation around the game, the platform had to provide substantial stocks. If for the moment, we don't know if Hogwarts Legacy will be a success in terms of ratings, we do know that in terms of sales, it will most certainly be the case! This is even more true when we know that the pre-sales will continue for another 2 months.