Discover the Best Free YouTube MP3 Converters in 2023 to extract audio from videos.
Have you come across a YouTube video that you want to convert to an MP3 track? We understand. You often want to have a video in audio form to listen to later on your iPod, computer or smartphone. But converting a YouTube video to MP3 is a challenge without the right tool.
That's why we present our top picks for YouTube to MP3 converters to extract audio from a YouTube video like a pro. But, before we get to the list of the best YouTube MP3 downloaders, let's check the basics.
What is a YouTube to MP3 converter?
A YouTube to MP3 converter is a tool that allows you to extract audio from a YouTube video and convert it to MP3 format for quick and safe retrieval when needed.
Using a YouTube audio downloader gives you the freedom to listen to your favorite YouTube video without the need for an Internet connection. It also makes it easier for you to share audio files with others. And if you create video podcasts, you can upload the episodes as audio files and post them on an audio podcast to increase your audience and visibility. All this is free!
Things to consider when choosing a free YouTube to MP3 converter
Creators and marketers know that YouTube is valuable. But converting YouTube videos to audio tracks requires a robust tool. While there is no one-size-fits-all tool for everyone looking for a YouTube audio downloader, here are some factors to consider:
Security
Of all the factors on this list, safety is paramount. The tool should have a professional appearance and the information you share on the site should be kept confidential. While two-step verification can be an added benefit, it can slow down the process if you are in a hurry. Above all, read the reviews of the tools you have chosen to be sure of your choice. Your favorite YouTube to MP3 converter should not include any malware or Trojan horses in your files. Remember that the presence of ads and pop-up links can be a red flag.
Features
Today, YouTube MP3 downloaders are equipped with various features. Analyze your needs and choose a tool that has the features you need. For example, does the tool support multiple formats if you need to convert your YouTube to MP3 and other formats like MP4 or WAV? Can you edit the clips before downloading the audio? Some may even need batch processing if converting multiple YouTube videos to MP3 is required. Still others need a no-frills tool that does the job of conversion well. So figure out what you need and look for a downloader that offers it.
Conversion speed
Another critical factor is the conversion speed of the tool. The YouTube MP3 downloader you choose should be able to convert YouTube videos to MP3 at high speed. Note that spending a lot of time converting videos can be detrimental to productivity in the long run. So find a high-speed converter. A good tool should do the job in 30 seconds to a few minutes, depending on the length of the video.
Audio quality
Audio is a powerful marketing asset. If you use it well, you are sure to build an audience and grow your brand. That's why you should pay attention to the quality of the converted files. Ideally, the tool should offer you several quality resolutions: preferably low, medium and high. You should also consider cloud storage space when uploading files if that is crucial to you.
Supported formats
Sometimes you may want to convert a YouTube video into a format other than MP3. If this is a requirement, make sure that the tool you have chosen is compatible with several formats like MP4, WAV, OGG, FLAC, AAC, etc.
Online or Desktop Application?
Some tools offer applications for desktops and mobile devices that you can download and use to convert YouTube to MP3. However, if you are not comfortable with software that needs to be downloaded to your device, look for a browser-based tool for converting YouTube to MP3.
Best Free YouTube MP3 Converters (2023)
Use this list of the best YouTube to MP3 converters to your advantage and listen to these audio tracks with confidence:
Warning: Copyrighted YouTube videos cannot be downloaded.

YT Saver is a good choice if you want a YouTube downloader in MP3. In addition to YouTube, it allows you to download audio and video files from over 10,000 streaming sites. You can also convert videos into almost any format you want – MP3, MP4, MOV, AAC, etc. And if batch conversion is what you're looking for, YT Saver lets you download YouTube playlists, channels and multiple videos at once.
However, you will need to download the software to use it. There is no online platform to facilitate the conversion from YouTube to MP3.

Another great tool that must be installed to be used, SnapDownloader supports over 900 websites. In addition to downloading YouTube videos and converting them into audio tracks, this tool also offers multiple downloads.
You can upload multiple videos simultaneously and even private YouTube and Facebook videos. Supported resolutions are 720p, 1080p, 4K and 8K. And you can convert videos to MP4, FLV, AVI, WMV, WEBM, 3GP, WAV, and more.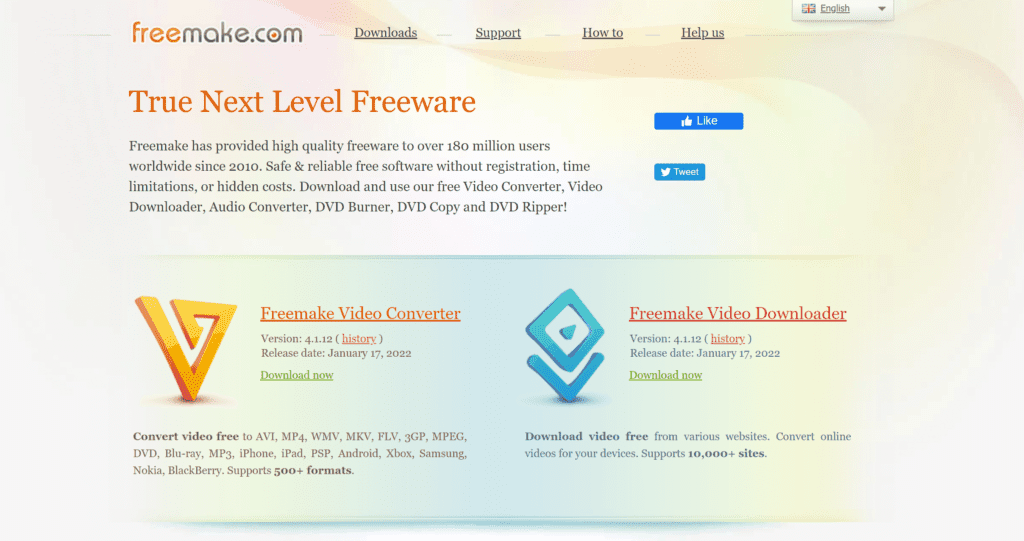 Another powerful YouTube to MP3 converter, Freemake also works by downloading and installing the tool on your device. With a clean and pleasant interface, it makes converting YouTube videos faster and easier. We are particularly impressed with Freemake's ability to extract audio from videos and CDs.
While it would have been nice to have a browser-based tool, this application's ability to convert YouTube videos to multiple output formats and burn DVDs makes it one of the best options available on the market.

Wave.video is a robust video editing and live streaming platform that lets you quickly convert your favorite YouTube videos into audio tracks. But converting YouTube to MP3 is not the main tool offered by this platform.
It is an all-in-one video marketing platform that allows you to edit your video clips and repurpose them into multiple formats. In addition, you can take advantage of the cloud to seamlessly publish, integrate and store your uploaded files.
Remember that the world of the Internet is rapidly changing. Therefore, creating content that helps you leverage the power of the web depends on an integrated video marketing platform. This is what Wave.video offers with its YouTube MP3 downloader and other audio and video editing tools.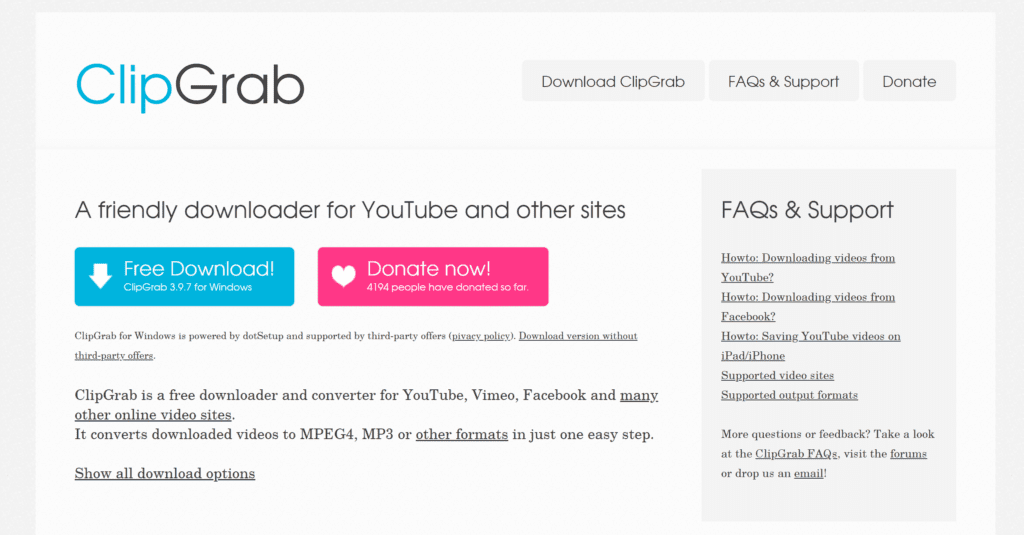 ClipGrab is a great free YouTube to MP3 downloader that converts videos to high quality audio tracks. The tool is available for Windows, macOS and Linux and supports many sites, including YouTube, Vimeo and Dailymotion.
In addition to converting YouTube videos to MP3, ClipGrab also supports formats such as MPEG4, OGG Vorbis, OGG Theora and WMV.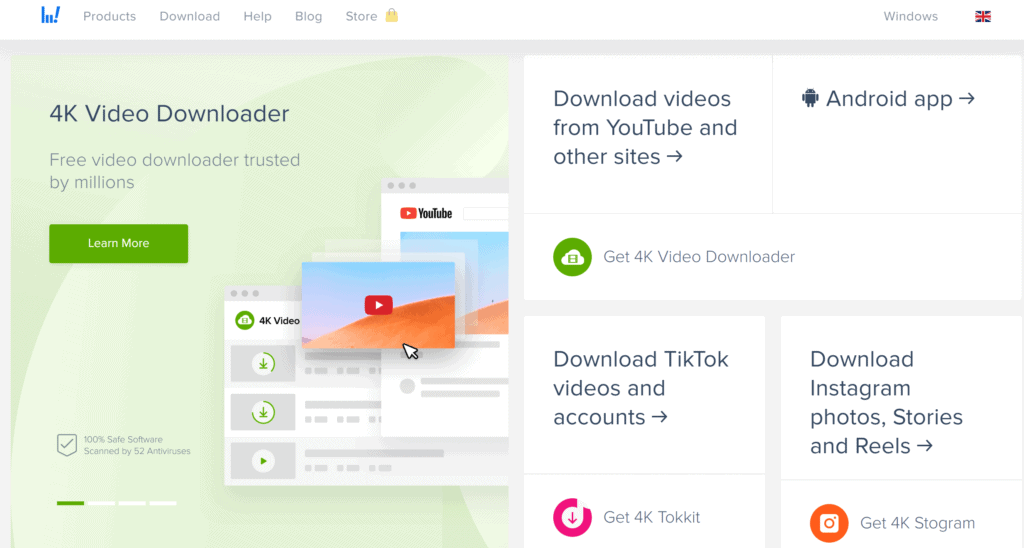 4K Video Downloader is a fantastic YouTube to MP3 converter that allows you to download playlists and entire YouTube channels. Although the tool is downloadable and does almost everything the other applications on this list do, its USP is to automatically detect ads and not download them.
Another advantage is the ability to limit the download speed to free up bandwidth for other online tasks. You can even configure the downloader to stop after the downloads are complete.
By Click Downloader is a free YouTube MP3 downloader that is a bit of a slog. Even though it can convert your YouTube videos into any format without any problems, it must be downloaded and installed on your device to work.
Videos can be downloaded in 720p, 1080p, 4K and 8K and converted to MP3, MP4, FLV, WMV, AVI, etc.

oDownloader offers both a desktop and online YouTube to MP3 converter. The platform allows you to convert any YouTube video into audio with just one click. Besides making the process easier and faster, this tool also saves disk space and CPU usage. You can also enjoy an ad-free and pop-up-free experience – ensuring that downloaded files do not put your privacy at risk.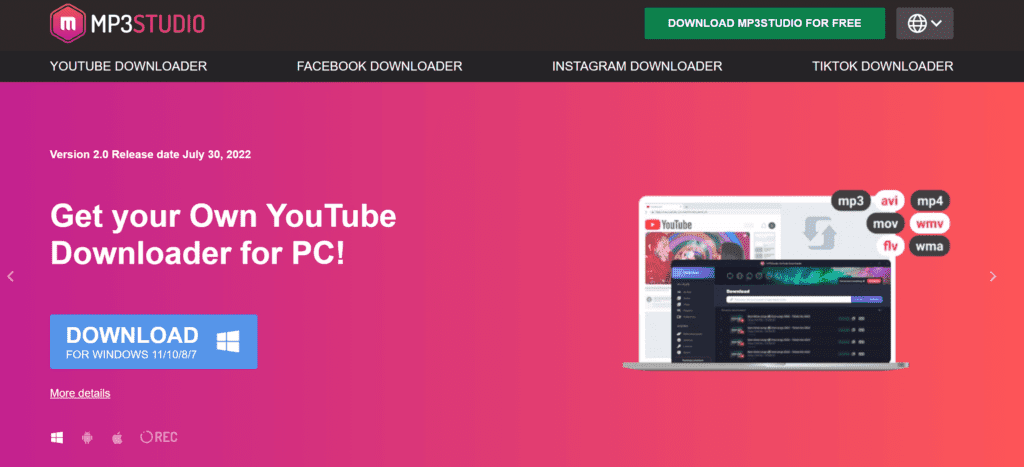 MP3Studio is more than a YouTube to MP3 converter. This platform allows you to download and convert YouTube videos on Windows, Mac and Android with the greatest of ease. Download speeds are impressive, and you can even batch process up to 99 songs simultaneously in the background.
MP3Studio has a multilingual interface, and you can also upload Facebook, Instagram and TikTok videos.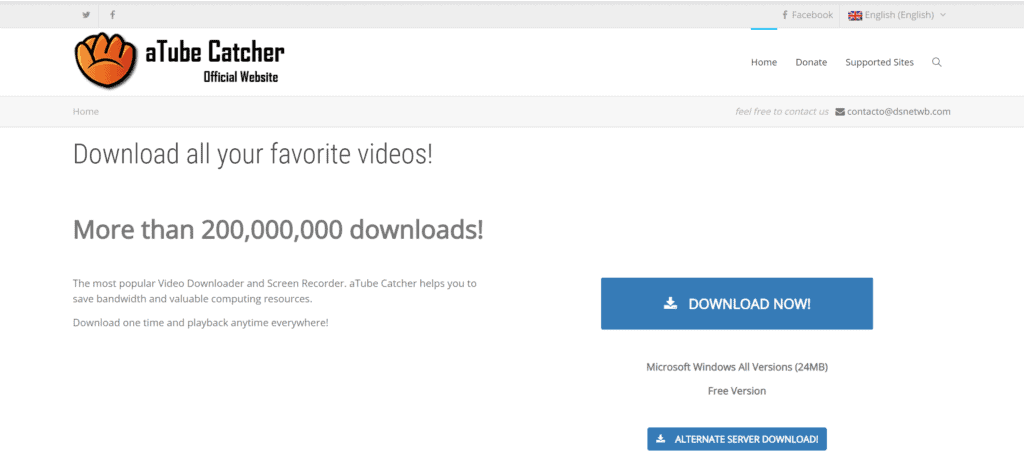 aTube Catcher is another freeware desktop tool with a multilingual interface. This easy-to-navigate platform makes downloading and converting YouTube videos a snap. You can also upload videos from social sites like Facebook, Vimeo, Dailymotion™, etc. And the app supports multiple formats, including MP3, MP4, AVI, WMA, WMV, MOV, etc.
It can also burn DVD/VCD videos without the need for third-party software. And there is also a built-in screen recorder.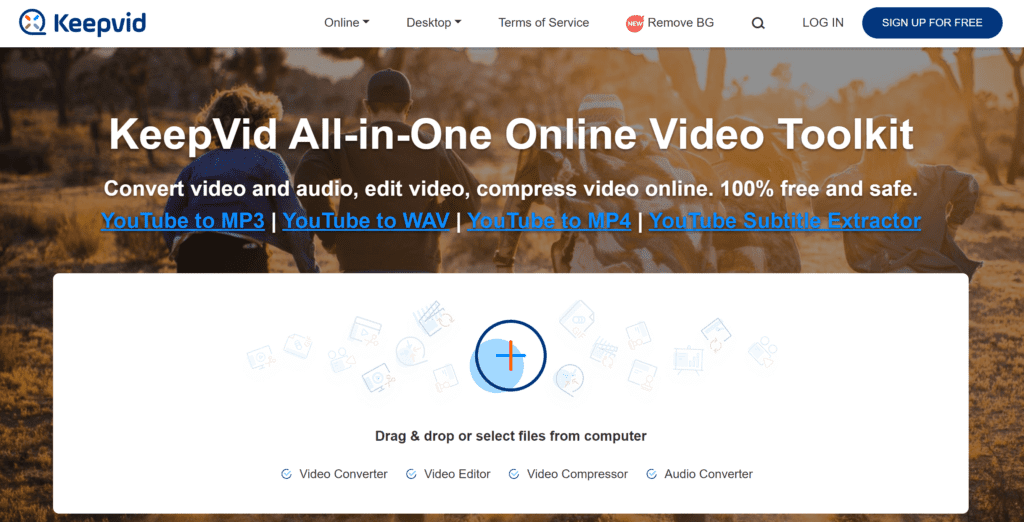 For a drag-and-drop YouTube MP3 downloader that's a little easier to use, KeepVid is a great choice. With its simple interface and a long list of solutions, including automatic transcription, online video compressor, etc., you can do more than just convert YouTube to MP3.
This free tool has no limits on file size, input video quality and output video quality. In addition, it supports several video conversions, including MP4, MOV, FLAC and OGG.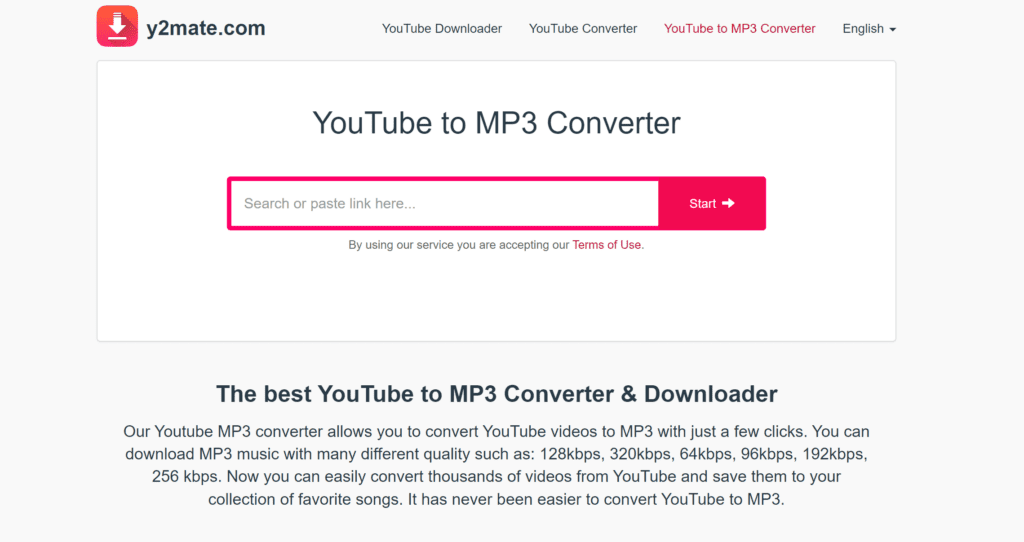 Looking for a YouTube MP3 downloader that doesn't require registration? Y2mate is a good choice with unlimited downloads, high speed conversions and support for multiple formats.
A browser-based tool, Y2mate is compatible with all browsers and can be used on any device: desktop, mobile or tablet. Supported resolutions include 128 kbps, 320 kbps, 64 kbps, 96 kbps, 192 kbps and 256 kbps, and you can also upload the converted files to DropBox and Google Drive.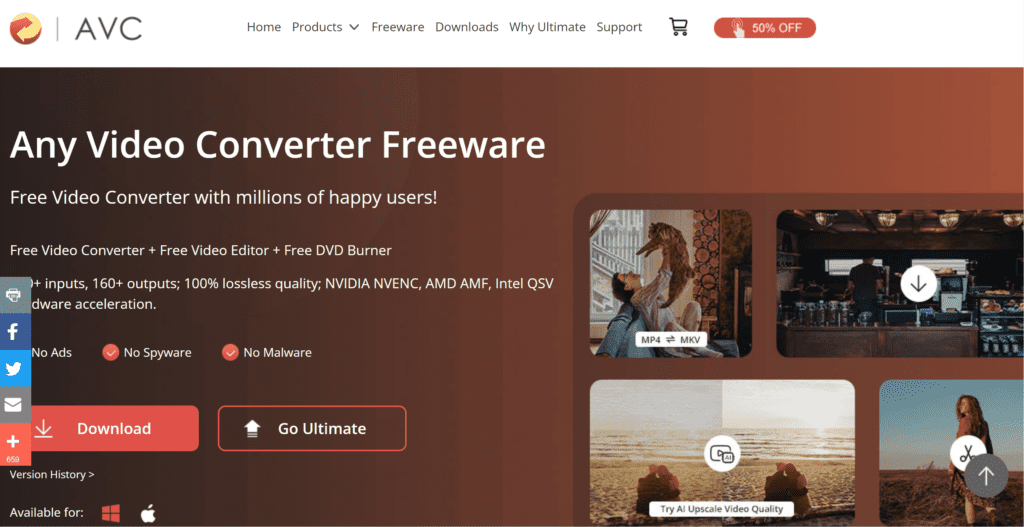 A comprehensive download and conversion toolkit is a must if you are a content creator, and Any Video Converter fits the bill here. This free desktop application is available for Windows and macOS and boasts a clean interface, free of ads, viruses and spyware.
Any Video Converter also guarantees 100% lossless quality with NVIDIA NVENC, AMD AMF and Intel QSV hardware acceleration. You can try it if you are looking for a tool that can extract audio tracks from CDs and YouTube videos.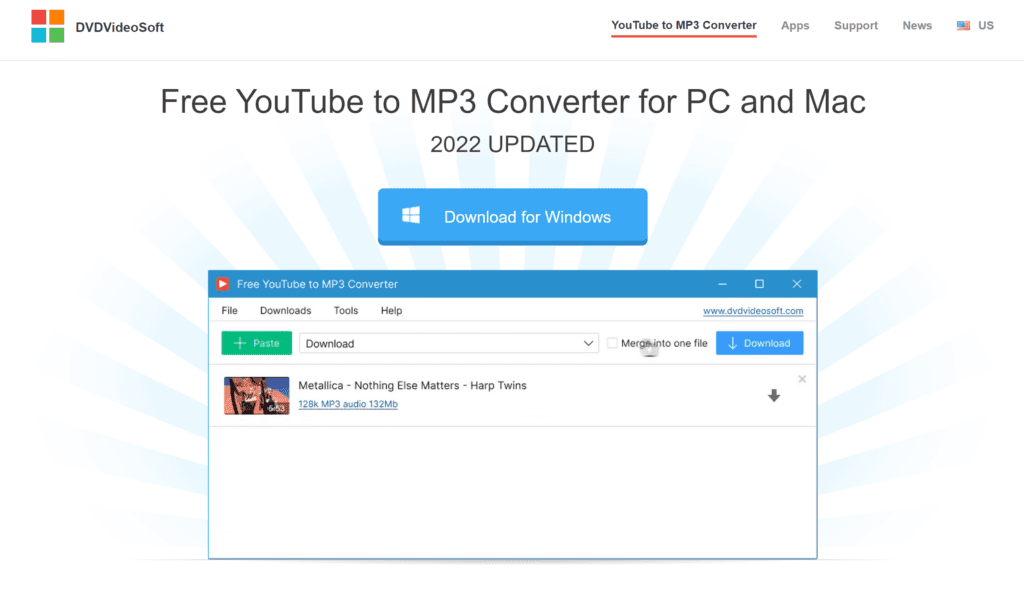 DVDVideoSoft is a simple platform that allows you to convert YouTube videos without problems. From 320kbps hi-fi MP3 files to the ability to download playlists and entire YouTube channels, DVDVideoSoft offers it all.
There's no limit to batch uploading in a day, and you can even merge multiple audio tracks into one. With the ability to transfer music directly to iTunes, this is one of the best YouTube to MP3 converters available today.
Conclusion
When using the best free YouTube to MP3 converters, make sure you are not downloading copyrighted material. See YouTube's policy to understand that uploading copyrighted content without the owner's consent is strictly prohibited.
That said, using a free YouTube to MP3 converter can save time if you download and convert non-copyrighted videos. Choose a safe and clean tool, and you won't have to worry about losing your information to a harmful site riddled with bloatware and pop-ups.
So, which YouTube MP3 Converter do you plan to use? We'd love to hear about it. Leave your answers in the comments below.