A few days ago, a Bethesda conference was held to present the upcoming news. If people were waiting for The Elder Scrolls 6 or Starfield, a game was announced to the surprise of everyone, Hi-Fi Rush. Another good surprise, the game was available immediately and on the Game Pass for subscribers. So, what is this game worth? This is what we will see here.
Become a rockstar in Hi-Fi Rush
As we just told you, Hi-Fi Rush was a game that nobody expected. The reason for this is that the game had simply not been announced until it was revealed that it was available now. As for the platforms on which you will be able to play it, it will be either the Xbox or the PC. On Steam, the game will be sold for 30€. For this price, you can expect to spend about ten hours to finish the adventure the first time.
But one of the great things about Hi-Fi Rush is simply that it has been on Game Pass since its release. It is even available on the Cloud version of the latter. Now you can enjoy it on any compatible device! As for the type of game, we're going to spend on an action game that revolves around a simple, but effective mechanic, the music.
Simple but effective gameplay
Chai, the character you play as, dreams of being a rock star and after a problem, finds himself with his walkman transplanted in place of his heart. Following this accident, he will have new powers, but these will be linked to one thing, the rhythm. Understand that a lot of actions you will do in the game will have to follow this rhythm.
For example, you will have puzzles that will require you to press certain keys in rhythm. Even the fights will benefit from this system. If you tap to the rhythm of the music, your combos will do more damage. From then on, in addition to the usual fighting mechanics, you will have to succeed in keeping up with the rhythm of the music.
At the beginning, keeping the pace in Hi-Fi Rush can be a bit tricky, but you will be able to benefit from visual aids. Indeed, you can activate a bar giving the rhythm at the bottom of your screen. You can also rely on the environment to react to the rhythm of the music. Later, when you have mastered this basic mechanic, the game will go further.
You can buy combos between missions (and sometimes even within the mission). The idea is not only to mix the two types of attacks in a precise order, but also to keep the rhythm so that these combos are even more powerful. Finally, as your adventure progresses, you will also be able to count on allies. These can then help you in the fights, but also in your progression. Finally, let's note that an effort has been made in the boss battles which are not at all similar with each time new mechanics.
Limited replayability
Hi-Fi Rush is a game that will require you to have a sense of rhythm and as you progress, you will progress. Moreover, from the first levels, you will have areas accessible only with the help of allies that you will collect later in the adventure. So, if you want to explore everything or just increase the difficulty, you can replay the levels.
It won't give you anything new, but if you're looking for a challenge, it can be fun. To do so, you will have to complete the game entirely once. You will have access to the previous levels as well as to a new difficulty, "King of rhythm". A difficulty that will leave little room for error!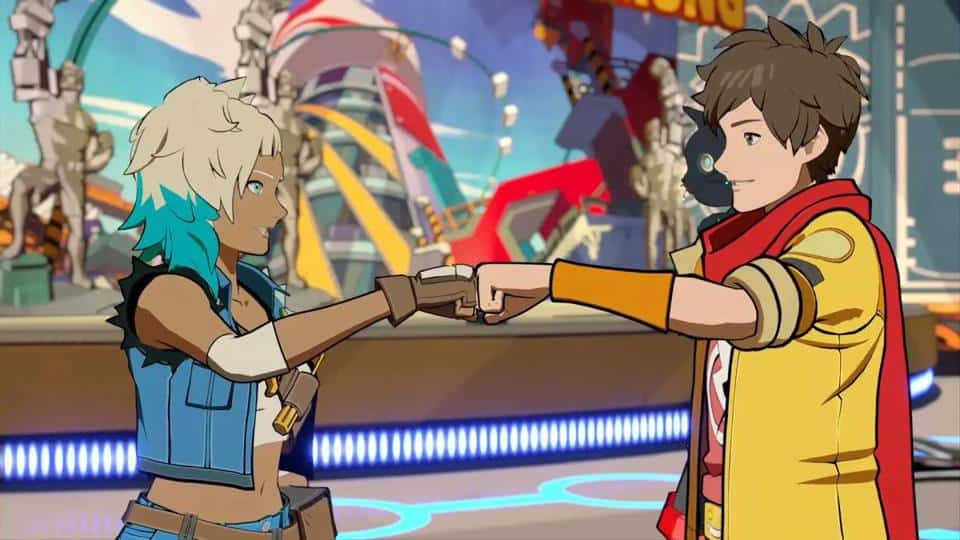 Hi-Fi Rush, an exciting universe
Finally, Hi-Fi Rush is a game that has a pretty compelling universe. The scenario itself is not extraordinary. Indeed, you must save the world from a villain who intends to use technology for his own purposes. But the first point is that this scenario is full of humor. Not all the jokes hit home, but it's pretty good.
Except that besides the scenario, one of the great strengths of the game is simply its soundtrack. For a rhythm game, it is essential to succeed in this point and for the blow, Hi-Fi Rush passes this test with flying colors! But in addition to the soundtrack, we really liked the very cartoonish graphic style of the game, even if sometimes it can be a bit confusing. Indeed, in combat in particular, when the animations start to multiply, the action is sometimes a little confused.
The Review
Hi-Fi Rush
Hi-Fi Rush is without any doubt one of the most beautiful surprises of this beginning of the year 2023. A short but efficient game with an excellent soundtrack and a graphic style that fits perfectly with what we can expect. Don't wait any longer and try this little gem!
PROS
A great soundtrack
Un gameplay simple, mais efficace
Varied boss battles
CONS
A little short life for 30€.
Review Breakdown
Gameplay

0%

Story

0%

Graphics

0%

Soundtrack

0%

Price

0%